Yin yoga works with sometimes intense sensations over longer periods of time (2-5, even 10 minutes), and relies on the difference between pain and intensity. We'll discuss 3 different ways to work with intensity and turn anything into meditation.
Yin yoga is a style of yoga that focuses on "yin" tissues of the body: the fascia, connective tissues and bones which are yin relative to the yang muscles, yin with respect to having less blood, less water than the muscles on which regular hatha yoga practices focus. If you've come to a place in your practice where you feel stuck, it's likely the fascia surrounding the muscles that's the culprit and yin yoga is the way to work with fascia.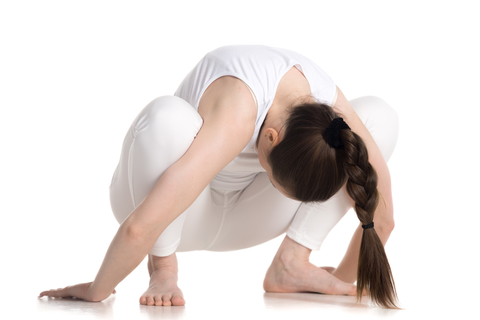 These tissues are, however, less pliable. The forces we exert on the yin tissue require relaxation of the muscles, a relatively "cold" practice (without warm up or heat that activates the muscles) and longer time in pose. These poses can be quite intense, but that is all within your control: go slowly and explore closer to the minimum edge of these poses until you are comfortable with the sensations and how to work with them.
Four ways of working with intensity in yoga and life
First of all, distinguish between pain, a signal of damage, and intensity, which can signal a place of need. Pain is electric or sharp. Intensity has many qualities but changes for the better over a short period of time and is worth exploring. This distinction requires time and practice and should be approached with utmost care and under the guidance of a teacher.
Breathe. Breathe long, slow, deep and smooth breaths. Imagine that the breath can actually enter the sensation of intensity and create space instead of compression, movement instead of stuckness, mobility instead of hardness.
Breathe. When imagining the breath going to the place of intensity seems to only increase your focus on the intensity, pull back and just focus on the sensations of the mechanics of breathing: your nostrils, the back of your mouth and throat, your chest muscles - front, sides and back, your abdominal muscles - front, sides and back, pelvic floor. Extend each breath with smoothness and attention to the exhale.
Micro-movements. Move the joint or body part associated with the intensity either into or out of the position by millimeters. This takes practice and discernment. Sometimes just going one tiny bit more deeply produces enough of a change to mitigate the intensity. Moving between deeper and shallower positions can help you engage the pose for lengths of time.
Why would we want to work with these tissues? Aren't these the exact places you tell us
not
to stress during regular classes? Yes. In regular yoga classes we are focused on muscular engagement, strength and flexibility. We specifically warm up and engage muscles, which compress and put their own strain on joints. In a regular yoga class, we don't want to add stress and can't access the fascia.

In Yin yoga class, we release patterns of holding and habitual engagement in the muscles so we can intelligently work with the connective tissues. The joints have more space so shearing forces aren't directed into them. This is less forceful, more patient work. The reason to work with these tissues is that the fascia and other connective tissues are exactly where we hold our patterns - our "stash" of habit, filter, assumption and experience. If you're stuck working with a certain area of your body or class of poses and haven't been able to "stretch" your way into the experience you want, Yin yoga is most likely exactly the secret key you've been looking for.
You've probably heard that bones are strengthened through stress; this is one reason some form of resistance training is recommended for graceful aging. Without stress, the processes that rebuild bones are circumvented. In zero gravity, astronauts actually loose bone density. But this happens with physical inactivity of any kind: a casted limb, bed rest or simply a sedentary period of time. Yin yoga intelligently applies stress to the bones and the connective tissue in ways that strengthen rather than strain and which can lead to increase mobility and vitality.
Additionally, because postures are engaged for minutes rather than seconds and target fascial lines, they interact with what Eastern Medicine refers to as meridians in the body. This week's practice focuses on forward bends and therefore interacts with the liver meridian, though kidney, gall bladder, urinary bladder, spleen and stomach also run through the legs. This is a gentle stimulation and leads to greater balance.
The most important thing about Yin Yoga is to discern the difference between pain and intensity. In no instance do I recommend you remain or move toward poses that create sharp or electric sensations: these are "pain" and signal danger to tissue (soft, connective or nerve) in the body. However other sensations often avoided are actually signals of need in the body.
Erich Schiffman popularized the distinction between minimum and maximum edges in his book, Moving Into Stillness. Your minimum edge in a pose is the first inkling of sensation created by a direction of movement. In Yang Yoga practices, this isn't a very useful place to stay, though it's vital to understand. In Yin practices, this can be a fruitful place to explore sensations and make decisions about how much intensity to generate by moving toward a pose.